All NPQs, are now free to all applicants.
The DfE announced 12.10.2021
All teachers and leaders employed in state-funded schools and state-funded organisations that offer 16 to 19 places in England can now access a fully funded NPQ from Autumn 2021, to support teachers and pupils following the disruption to learning faced as a result of COVID-19.
Further details including any additional eligibility criteria for the NPQ can be found here
National Professional Qualifications
As part of the DfE's Recruitment & Retention strategy the 'Golden Thread' of Teacher Education and Training the DfE has reformed the suite of National Profession Qualifications for Teachers. These programmes contribute to the development of a World class system of Education & Training.
The Department of Education is committed to ensuring that the reformed suite of National Professional Qualifications (NPQs) offer the best possible support to teachers and leaders wanting to expand their knowledge and develop their skills, helping them to become more effective teachers and leaders inside and outside the classroom
The changes to NPQs build on the evidence and expert advice already established in the new core content framework for Initial Teacher Training, and the Early Career Framework (ECF).
Further information on the new NPQs DfE go to https://www.gov.uk/government/publications/national-professional-qualifications-frameworks-from-september-2021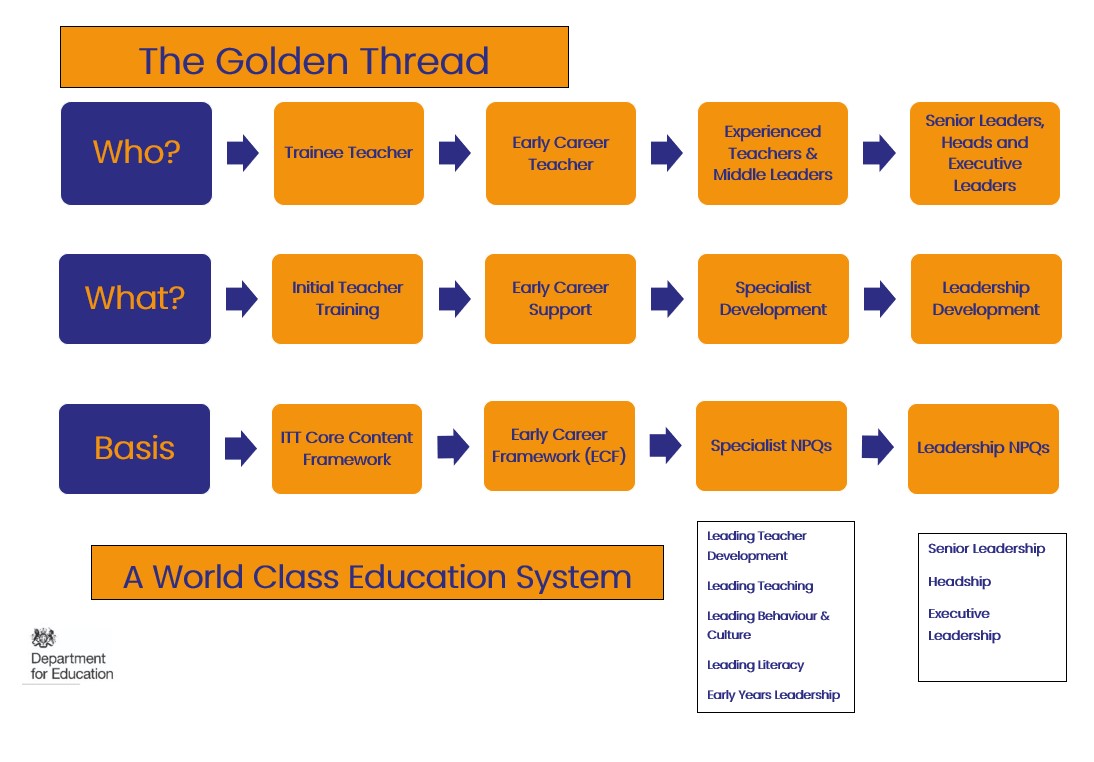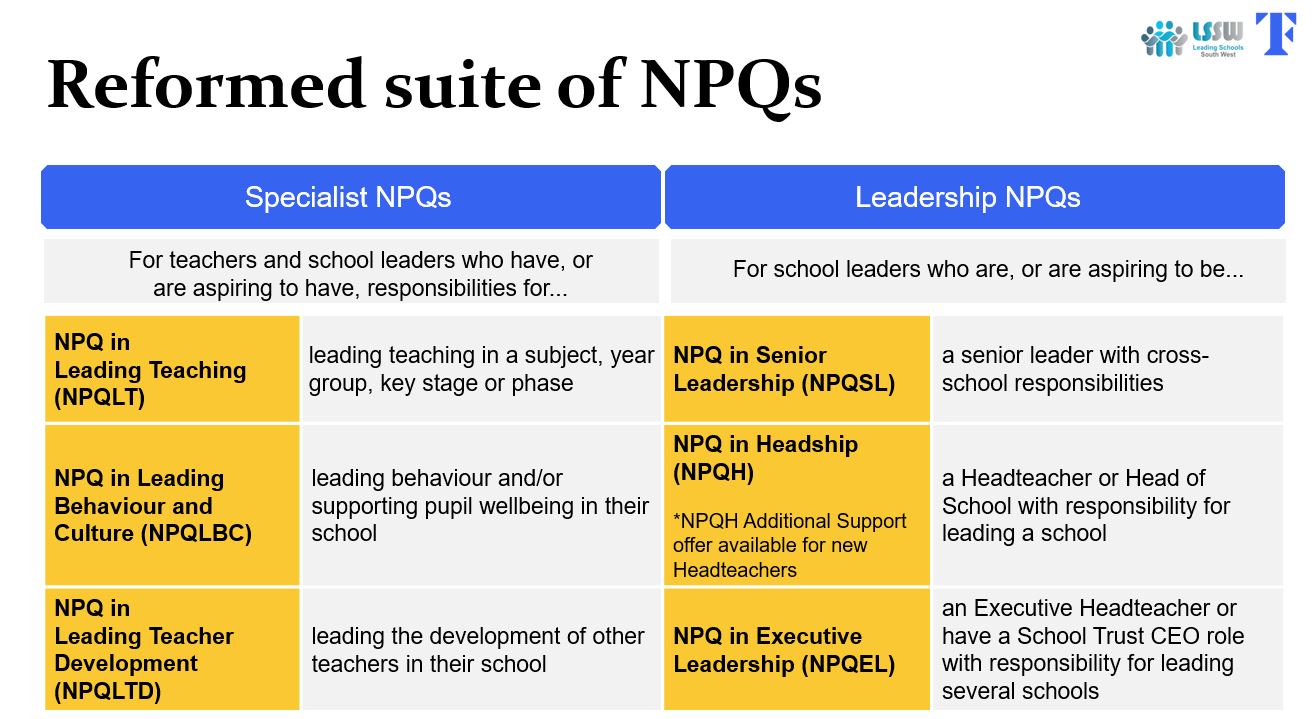 OneCornwall are partnering with Teach First and LSSW to offer the newly reformed NPQs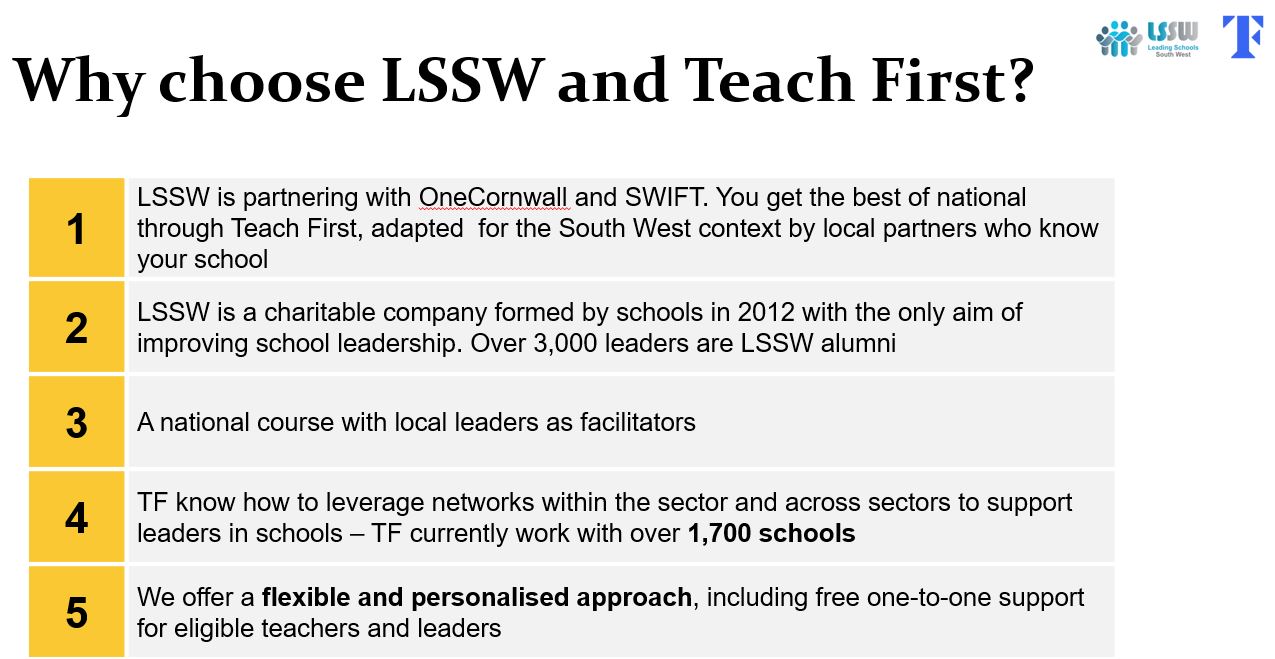 How do I register for an NPQ ?
There are several stages to registering to undertake and NPQ.
Stage 1 — Deciding on your NPQ and NPQ provider.
Decide which NPQ would be most suitable for you to undertake
Decide on the provider that you would like to undertake your qualification with. OneCornwall can support you with these decisions and signpost you to the NPQ providers available. (OneCornwall are working in partnership with Teach First and LSSW)
Stage 2 — Register your NPQ decision on the DfE portal
Once you have made your decision on which NPQ and which NPQ provider you wish to use need to register on the DfE portal. Step by step details of how to do this can be found in the attached PowerPoint presentation below.
Stage 3 — Applying to your chosen provider
Your chosen provider will be notified by the portal of your choice and will be in touch about the application process
If your decision is to undertake your NPQ though OneCornwall please get in touch with us, and we can support you through the process. You can find out more about our NPQ provision here.